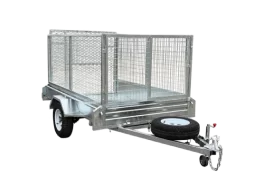 BOX TRAILER 8×5 SINGLE AXLE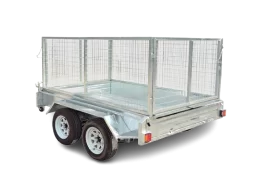 BOX TRAILER 8×5 dual AXLE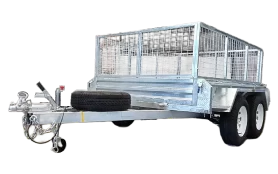 BOX TRAILER 10×6 SINGLE AXLE
Request a free quote
GET IN TOUCH WITH AN EXPERT
Tipper Box Trailers
Meet all the Australian road and safety standards for absolute piece of mind. These beasts of the road are all round Hot Dipped Galvanised so that they are so you can fit almost any sized material or item.
BOX TRAILERS WITH 
CAGE
These box trailers are manufactured using premium quality raw materials and the latest technology so they are widely applauded for their excellent durability, easy operation & maintenance and their heavy load bearing capacity.
BOX TRAILERS WITHOUT CAGE
Hot-dip galvanized trailer without 600 mm high removable cage. Made premium quality raw materials, and galvanized. Very strong trailers with Tilt.
WELCOME TO

TRAILER SUPPLIES

AUSTRALIA
Trailer Supplies makes it easy to choose a quality trailer to suit your needs and budget. We supply good quality galvanised trailers to the customer at a reasonable price.
Are you looking for a new Galvanised trailer? Trailer supplies is the company for you. We pride ourselves in our user 
friendly, heavy duty and practical designed trailers. All our trailers fully comply with the Australian design rules and are always built to last.
All of our trailers are hot dip galvanised which is the best form of rust protection available. A hot dipped galvanised 
coating is far more durable than any form of coating available which will ensure your trailer will 
outlast inferior painted trailers.
HEAVY DUTY DESIGN
Is the load too heavy for a pick-up? Count on the heavy duty design we offer to transport any kind of heavy material.
TOP QUALITY GALVANISED TRAILERS
All our trailers have premium galvanised coating that give an outstanding level of resistance and is very hard to damage during the transportation of materials. Galvanised coating life expectancy is not only long but very reliable (around 50 years in rural areas).
FULLY COMPLIANT WITH AUSTRALIAN 
DESIGN STANDARDS
As an Australian owned and operated business, we take pride in saying our country has the most strict design standards in the entire world. We make sure all our trailers comply with the minimum coating thickness required.
BEST FORM OF RUST PROTECTION 
AVAILABLE HOT DIPPED GALVANISED 
COATING
Is the load too heavy for a pick-up? Count on the heavy duty design we offer to transport any kind of heavy material.
Why Not Take Advantage of
Buy Now Pay Later Interest Free Finance?
Trailer Supplies offer 6 months interest-free finance (No deposit needed) on 
our entire range of trailers. Applying online is quick and easy with Humm. Why wait? 
Buy today, pay later for your trailer!